Intro
RESPONSIBILITY
As a global company, ShinTS will fulfill its responsibilities to the employees, the local society, and the environment.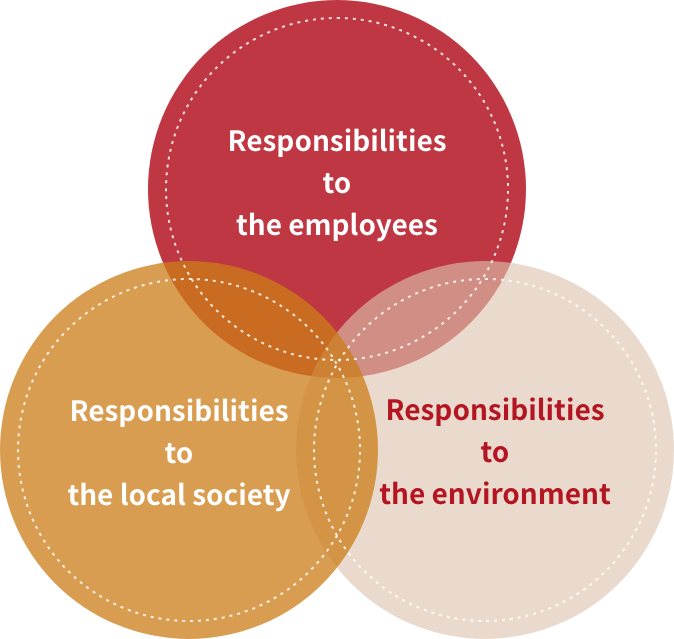 Employees
Responsibilities to the employees
ShinTS strives to provide the employees with a safe working environment while providing sufficient rewards.
This effort leads to the devotion of the employees to the company which became the driving force for ShinTS to provide good products and services.
Safe and Legal Work Environment
ShinTS guarantees a safe and legal working environment that meets global standards.
Employee Welfare
ShinTS works hard for the happiness and welfare of the employees.
Kindergarden for Employee's Children
Scholarship for Employee's Children
Maternity Protection
ShinTS actively supports the legally guaranteed maternity protection system.
Fetal checkup
leave
Pregnancy
shorten work
Maternity
leave
Parental
leave
Parental
shorten work
Society
Responsibilities to the local society
Donation for the local community
ShinTS donates clothing and relief supplies to neighbors in need in the local community.
We are returning our profits to the society through various donations and scholarships.
"The children who received warm and pretty vests love them so much that they don't take them off."

These vests for children donated by ShinTS became a great joy for low-income single-parent families who wanted to buy this kind of clothing but couldn't afford it. The vests are made of fabric which dirt can be wiped off easily, and they are thick and have warm fleece lining.

"It was a great gift for the depressed female homeless users"

A clean and sturdy new jacket for homeless people who are easily exposed to unsanitary conditions provided not only physical safety, but also a refreshing feeling. I would like to express my sincere thanks again for the warm and generous sharing of ShinTS, which has helped the homeless to wear new clothes and find hope.

Sponsorship of GOD MOTHER program for local orphanages in Vietnam

Support for housing construction costs for the underprivileged in Vietnam
Sponsorship for local artists
ShinTS supports talented and promising artists in the local community.