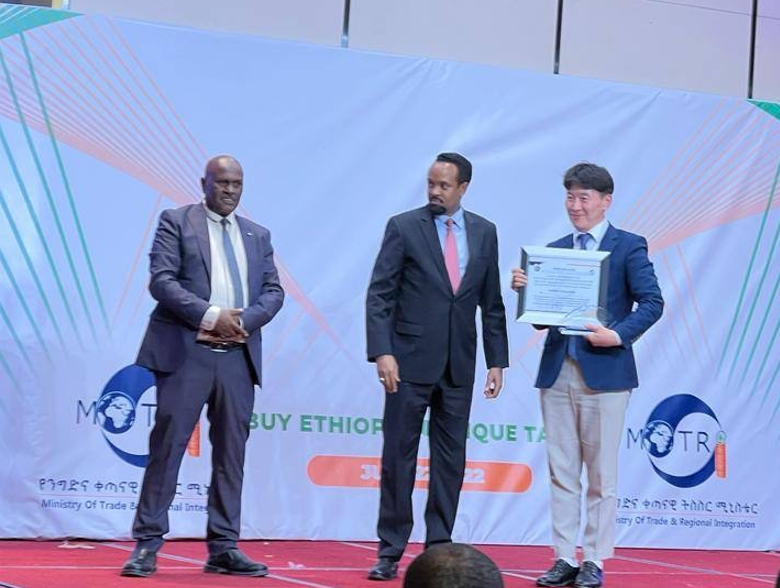 SHINTS ETP Garment PLC (hereinafter referred to as SHINTS ETP), a subsidiary of SHINTS in Ethiopia, ranked No. 3 in textile and clothing exports volume in Ethiopia in the event held to mark the export day prepared by the Ministry of Trade and Regional Integration on Jul. 23. 
Choe Hang-yeong, head of SHINTS ETP, said, "SHINTS ETP has earned approximately USD 6 million in 2021 to record an increase of 70% compared to last year. We have also manufactured items to be exported to the US. Although Ethiopia was suspended from AGOA, we successfully shifted our main markets to Europe and Asia. Thus, we believe that we can achieve better results next year." 
The African Growth and Opportunity Act (AGOA) is a United States Trade Act that provides eligible sub-Saharan African countries with tariff-free access to the US market for their products. However, Ethiopia was suspended from AGOA in last December due to the civil war. 
Although most sewing companies in Ethiopia have withdrawn their business or announced major layoffs owing to the war in Ethiopia in 2021 and ensuing decision to suspend the country from AGOA, SHINTS ETP has shown exceptional growth. 
For instance, the number of employees continues to increase from 4,200 at the end of 2020 to 4,900 at the end of 2021 and to 5,700 as of now. 
The productivity of SHINTS ETP this year has increased by more than 30% compared to last year to hit an all-time high and the growth in sales is also expected to increase by more than 50% from last year. 
The stable growth of SHINTS ETP in Ethiopia in the midst of effects the US decision to suspend the country from AGOA has drawn attention from the textile and fashion industries.